motorcycle taxi at Orly 1 and 2 airports (West)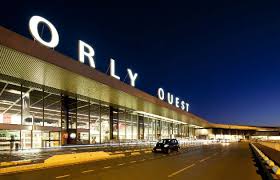 Need a motorcycle taxi NOW at Orly West?
Don't waste a second and call our reservation center at 0153901401.
Our operators have access to the location of all our partners, there is certainly one motorcycle taxi in Orly West or close to it who can help you.
Find your pilot from motorcycle taxi at Orly West:
There is only one meeting point to find your driver: Gate D at arrivals.
Don't try to find a motorcycle, the West terminal of Orly is full of motorcycle cabs, it is very unlikely that you will come across one by chance.
Access to Orly West by road:
Access to the terminal: Avenue O, 91551 Paray-Vieille-Poste.
GPS coordinates: latitude 48.726243, longitude 2.365247
Orly Ouest is located 14 kilometers south of the Porte d'Orléans and is served by the A106 freeway, the A86 from the Nationale 7 or directly by the Nationale 7 from Paris to Athis Mons.
Google Maps Orly West

Companies operating at Orly West (terminal W):
Before boarding your motorcycle taxi, remember to check your boarding terminal on your ticket. Our pilots of motorcycle taxi are very often confronted with terminal errors.

- Air Corsica
- Air Europa
- Air France
- Air Malta
- Alitalia
- British Airways
- CityJet
- EasyJet
- FlyBe
- Hop!
- Iberia
- Icelandair
- JetAirfly
- Level
- OpenSkies
- Pegasus Airlines
- TAP
- TwinJet
- Vueling

Prices from or to Orly West:
Vers Paris : 75 €
Vers Roissy CDG : 137 €
Vers Boulogne Billancourt : 86 €
Vers Courbevoie : 97 €
Tous les tarifs en taxi moto depuis Orly Ouest