Airbag vest, insurance and safety!
For even more safety, our fleet drivers offer you Airbags made in France for a more reassuring experience at motorcycle taxi. The insurance is subscribed with AXA which was one of the first insurance companies to work with Motocab since 2001.
Motocab Event, make your events move with our fleet of motorcycle taxi :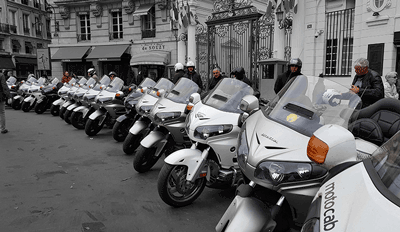 From 5 to 80 motorcycles with professional drivers, we come with you to coordinate the operation. Download our brochure and offer a unique experience to your guests with motorcycle taxi .
Link the airports of Paris in motorcycle taxi !
Vous souhaitez vous rendre dans l'un des aéroports de Paris en taxi moto ? Vous êtes au bon endroit ! Que vous cherchiez un taxi moto à Roissy CDG ou un taxi moto à Orly, vous pouvez faire appel aux chauffeurs de Motocab. Le taxi moto, c'est l'assurance de relier la capitale rapidement ou, à sens inverse, de ne pas rater son embarquement ! Concernant vos bagages, pas de panique : votre valise cabine logera parfaitement sur notre Moto Honda Goldwing.
En termes de temps, il faut compter environ 40 minutes de Paris à Roissy CDG et 25 minutes de Paris à Orly. Pour les vols avec correspondance, comptez environ 50 minutes pour faire la liaison Orly-Roissy en taxi moto.

Du côté des tarifs, les nôtres sont fixes et il vous en coutera 97 € de Paris à Roissy CDG, 75 € pour l'aéroport d'Orly et 137 € pour la liaison Orly-Roissy.