MOTORCYCLE TAXI ORLY AIRPORT
The motorcycle taxi in Orly, a necessity!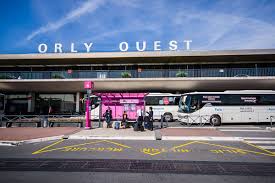 While historically, cars reign supreme in the vicinity of Orly airport, a new means of transport has appeared in recent years: the motorcycle taxi ! Nowadays, motorcycle cabs are a must for a large number of users and are becoming very useful around the Paris airports. While by car you can take up to 2 hours to reach Orly airport from the center of Paris, the motorcycle taxi allows you to make the trip in only 30 minutes and in the best conditions of comfort.
Rates from motorcycle taxi to Orly
Taxi Moto Orly vers Paris : 75 €
Taxi Moto Orly vers La défense : 97 €
Liaison Taxi Moto Orly vers Roissy CDG : 137 €
Découvrez d'autres tarifs avec notre simulateur de tarifs de taxi moto
Travel time by motorcycle taxi from Orly
motorcycle taxi from Orly to Paris : 30 min
motorcycle taxi from Orly to Roissy : 50 min
motorcycle taxi from Orly south to Boulogne : 25 min
motorcycle taxi from Orly to La Défense : 45 min

The price of a cab varies from 40€ to 65€, the motorcycle taxi is a very competitive alternative. It offers the assurance of not being late thanks to its practicality of driving. The motorcycle taxi is also an ideal solution to avoid traffic jams and to make sure you arrive on time.
Whether you are landing at one of the two Orly terminals or taking off from them, the motorcycle taxi service allows you to be serene and save precious time compared to other means of transportation.
Find your motorcycle taxi Honda Goldwing at Orly airport
If you have reserved a motorcycle taxi at Orly to transport you after your landing, your motorcycle taxi will be waiting for you at the following meeting points
- Orly West airport: Gate D at arrivals.
- Orly South Airport: Gate L at arrivals.
In any case, your motorcycle taxi driver drives a Honda Goldwing and has your phone number. Also, you can reach Motocab's reservation center at 0153901401 between 7am and 9:30pm. Find the meeting points at Roissy CDG airport on the dedicated page:motorcycle taxi at Roissy.
Companies operating at Orly 1 and 2. Where to find your motorcycle taxi ? Travel time and rates, etc...
Companies operating at Orly 3 and 4. How to book ? Transfer prices, etc...
Flight tracking, our motorcycle cabs are waiting for you for free
At Motocab, we provide flight tracking as long as you have provided a valid flight number when booking motorcycle taxi . No delay fees will be applied if your flight does not land on time (you have 20 minutes to reach the motorcycle after landing).
Why is it essential to book your motorcycle taxi at Orly ?
As a company expert in passenger transportation in motorcycle taxi, we strongly encourage you to book your motorcycle taxi in advance through the Motocab website or app. In fact, it will be impossible for you to find a motorcycle taxi with the assurance of its seriousness at the exit of Orly airport. Some may come to you and offer their services, but they work illegally. To ensure your safety and benefit from real rates, think of book your motorcycle taxi !
What to do in case of emergency to have a motorcycle taxi in Orly?
In case of emergency, you can try to contact our switchboard which is located in Boulogne-Billancourt. We will be able to locate all the motorcycle cabs affiliated to our center and give you a very quick answer on how long it will take to get your motorcycle taxi in Orly. Be careful, the reservation remains the rule since we count approximately 500 drivers of motorcycle taxi in Île-de-France.