motorcycle taxi at the Montparnasse train station: travel quickly and comfortably
How to get to the Montparnasse train station ?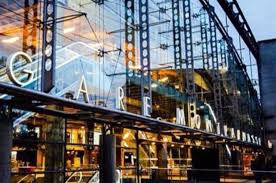 Located in the southwest of Paris, the Gare Montparnasse is one of the most famous stations in Paris. It offers many destinations between Brittany and the western part of France. It serves Nantes, Rennes, Bordeaux or La Rochelle. It is quite easy to access since it is served by several important metro lines (lines 4, 6, 12 and 13).
You can also go by car or by motorcycle taxi to the Montparnasse train station. The motorcycle taxi gives you the assurance of arriving on time to catch your train, especially since it is an often crowded station. Choosing motorcycle taxi at Gare Montparnasse, on departure or arrival, will avoid wasting time in transport and spending a bad time with your luggage.
Which vehicles are used by the motorcycle cabs at the Gare Montparnasse?
Motocab riders use 1800cc Honda Goldwing motorcycles. Spacious and comfortable, they are fully equipped to accommodate your small suitcases and bags. The motorcycle taxi will be able to put your carry-on luggage in the large trunk.
They also have two side cases, and two panniers to store the rest of your stuff.
If the suitcases are too big, don't worry, the driver can hang them on the luggage rack provided. Our motorcycle cabs are very comfortable. Once you're settled in, you can enjoy the trip by listening to the radio through your helmet or making a phone call, if you wish.
How to find your motorcycle taxi ?
To find your motorcycle taxi in Paris Gare Montparnasse, it's easy. The meeting place will be communicated to you at the time of the reservation. We choose places that are easy to find.
If you are unable to meet your driver, you can contact our call center which will guide you. Our telephone advisors are very familiar with the map of the station and its surroundings and will be able to show you exactly where your driver from motorcycle taxi to Montparnasse is located.
Motorcycle cab fares
Les tarifs que nous pratiquons avec nos taxis-motos à la Gare Montparnasse sont fixes :
• taxi moto de Gare Montparnasse à Paris : 45 € min
• moto taxi à Orly pour la gare Montparnasse : 75 €
• moto taxi à Roissy pour la gare Montparnasse : 97 €
• taxi moto de Gare Montparnasse vers les autres gares : 45 € min

Reduce your trips with Motocab motorcycle cabs
The advantage of taking a motorcycle taxi at Gare Montparnasse is knowing that you will arrive on time where you need to go. Indeed, the motorcycle taxi reduces by half the travel time compared to the cab. It is a significant time saving, and especially a stress less.
Much more mobile than a car or a cab, the motorcycle taxi can easily get through traffic jams!
Motorcycle cab travel times
The motorcycle taxi is a means of transport very used by the business customers. Several customers contact us to make a transfer in Paris or towards an airport:

-motorcycle taxi from Gare Montparnasse to Paris: between 15 and 20 minutes
-motorcycle taxi from Gare Montparnasse to La Défense : 35 minutes
-motorcycle taxi from Gare Montparnasse to Orly Airport : 35 minutes
-motorcycle taxi from Gare Montparnasse to Roissy airport : 40 minutes

Motorcycle cab travel times to other stations
It is also very common that we have customers who contact us to book a motorcycle taxi the Gare Montparnasse and go to another station:

- Gare Montparnasse to Gare Saint-Lazare in motorcycle taxi 15 minutes
- Gare Montparnasse to Gare de Lyon in motorcycle taxiin : 15 minutes
- Montparnasse station to Gare d'Austerlitz in motorcycle taxiin : 20 minutes
- Gare Montparnasse to Gare de l'Est in motorcycle taxiin : 30 minutes
- Gare Montparnasse to Gare du Nord in motorcycle taxiin : 30 minutes