To reach Charles-de-Gaulle airport by motorcycle taxi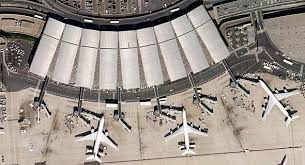 Many people traveling alone choose motorcycle taxi to get to Roissy Charles-de-Gaulle airport. With almost an hour's drive from Paris, and often congested traffic, it is always necessary to allow extra time to get to the airport by car or cab.
Motocab offers you a service of motorcycle taxi at CDG airport T2C airport, to get you there easily, or to reach another destination when you get off the plane. This is a very popular service for business travelers with limited luggage.
How does the transfer work when leaving the terminal?
Your flight lands in Terminal 2C of Roissy airport, and you wish to be picked up quickly to reach the capital or any other destination? Your motorcycle taxi at CDG T2C airport will be waiting for you at Gate 8 of the Terminal.
At the exit of the terminal, you will see dozens of motorcycle cabs waiting for their customers. To facilitate the meeting of your driver, you will receive a text message at the time of your arrival to remind you of the meeting place, as well as a photo to recognize your driver and his motorcycle. All our drivers have a Honda Goldwing motorcycle that is easily recognizable.
Once you land, you have 20 minutes to meet your driver and his Honda Goldwing.
Support on the Honda Goldwing
Our motorcycle cabs are equipped to accommodate your luggage safely. Indeed, they have a trunk, bags for your hand luggage and a luggage rack. If you don't have any luggage in the hold, you will be able to find your driver from motorcycle taxi at CDG T2C airport even faster. Our motorcycle cab service is really ideal for business travelers who carry only carry-on luggage.
The rates applied
The rates we charge for departures from Charles de Gaulle airport are fixed. Thanks to the service of motorcycle taxi at CDG T2C airport, you will be sure to arrive on time and travel comfortably.
• Taxi moto aéroport de Roissy CDG – Paris : 97 €
• Taxi moto aéroport de Roissy CDG – la Défense : 97 €
• Taxi moto aéroport de Roissy CDG – Orly : 137 €
Motocab : A high quality service
Much sought after by businessmen and women, or personalities (politicians, public figures or from the entertainment world), Motocab's transfer service is a top-of-the-range service.
Reactive, efficient and punctual, our drivers are at your service to guarantee a quick transfer. Our call center will help you for your reservation of a motorcycle taxi at CDG T2C airport, to find your driver or for any other request. All our drivers ride a Honda Goldwing, equipped to carry several luggage.
Once on the bike, you can listen to the radio in your helmet or even make a call.
Book your motorcycle cab in advance and allow for some leeway
If you decide to go to CDG T2C airport by motorcycle cab, you will save precious time. The journey from Paris lasts maximum 45 minutes. To be sure to get a motorcycle taxi, it is better to contact us 3 hours in advance.
If you need a motorcycle taxi at CDG T2C airport immediately, our telephone operators will do their best to find one for you. They monitor the drivers' schedules and can reschedule them according to new requests. You should arrive at the airport one and a half hours in advance for long trips, and one hour for short trips. For connections between Roissy airport and Orly airport, allow about 50 minutes.
Of course, you also have to calculate the time to find your motorcycle taxi and your installation on the Honda Goldwing.
Please allow 5 minutes extra transfer time if you land at the terminal CDG 2G which is particularly isolated in the Roissy Charle de Gaulle airport area.