motorcycle taxi CDG Roissy Airport Terminal 2D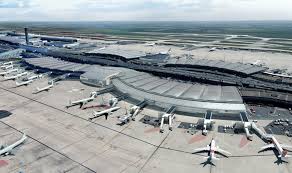 Getting around the city without traffic jams is no longer a utopia! In some of France's major cities, and especially in Paris, it is possible to get to theCharles de Gaulle Airport Terminal 2D in motorcycle taxi.
Although it is not a widespread transport service, according to your needs, you can book a motorcycle taxi for your transfers to CDG Roissy Terminal 2D airport and in the different departments of the capital. With motorcycle taxi, enjoy a private ride.
Instead of a classic cab, get on the back of a motorcycle! If you have little or no luggage, this is the most practical solution to arrive quickly at Paris-Roissy Charles de Gaulle Terminal 2D airport. Indeed, there is nothing like it to avoid traffic jams. Goodbye precious minutes stuck in the back seat waiting for traffic problems to be solved. Make the choice of punctuality assured, with our motorcycle cabs.
Apart from the speed of travel, do you know another advantage of motorcycle taxi at CDG Terminal 2D? The itinerary is determined in advance, defining a place, a pick-up time and a destination.
The rate indicated when you book online or by phone will not change. And of course, for the more eco-friendly among us, motorcycle taxi offers an advantage in terms of pollution, as motorcycles emit much less CO 2 than their four-wheeled counterparts. Our motorcycle cab drivers are experienced riders and all our motorcycles are top of the line. They are equipped with most of the active safety systems available on the market.
Clients are provided with clothing to protect them from bad weather or in case of a fall: helmet, gloves, jacket and shoe covers. Motorcycle cabs also have enough space to carry a bag, a briefcase or even a cart. The motorcycle taxi is becoming the best solution to make faster trips from the airport of Paris-Roissy Charles de Gaulle Terminal 2D. No more wasting time to have a driver available or waiting for public transport.
From now on, with the service of motorcycle taxi Motocab in CDG, Roissy airport, Terminal 2D you are not obliged anymore to foresee an additional lapse of time to arrive at your destination without suffering delays.
The motorcycle taxi : more and more followers
Many users are increasingly turning to motorcycle cabs because they have found it the most suitable way to get to the airport or to shuttle between airports or even to get to the capital, in record time. A motorcycle taxi is the best way to escape traffic jams at any time of the day.
For example, when the traffic is fairly fluid between the A106 and A6 freeways, it takes 30 minutes by car and of course you can only get there if there are no unforeseen circumstances on the road, such as road works for example.
The motorcycle taxi saves you a considerable amount of time, because it is able to weave in and out of traffic when the road is saturated and when there is a big traffic jam, a motorcycle taxi to CDG Terminal 2D can save you more than 50% of the time on your journey. This will prevent you from arriving late or missing your business or personal appointments. From now on, you don't have to worry.
To ensure an optimal service of motorcycle taxi , Motocab puts at your disposal a whole team of drivers to serve you 24/7 and to offer you a service adapted to your needs. Our drivers are experienced, qualified and able to offer you a fast and safe means of transportation. Our goal is to provide you with a comfortable ride at a very attractive price.
Terminal 2D is the twin of terminal CDG 2C which is located just opposite. Be careful when picking up your driver to find him/her in the right place, it is very frequent that customers find themselves at 2C thinking they are at 2D.