Book your motorcycle taxi at CDG Terminal 3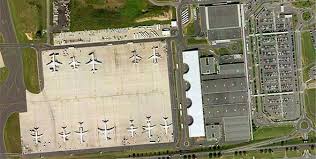 Are you planning a trip through CDG airport and need to get there on time easily and safely? Do you find that taking a cab poses a real concern for you in terms of availability and convenience among other things?
You don't have to worry about that anymore! Only our company puts at your disposal 24/24 and 7/7 days the transport of the people in motorcycle taxi in Paris-Roissy CDG Terminal 3, Paris Orly, in Paris and everywhere in Ile-de-France.
Because the fast displacement towards the Paris area became a real concern, if one takes as example the route of 17 km between the door of La Chapelle and the entry of the complex CDG - a way often saturated, our service of motorcycle taxi towards CDG Terminal 3 allows you to move in all peace while saving precious minutes.
For your convenience, our motorcycle taxi service uses 5 assets:
Safety is our top priority, which is why we offer you a range of comfortable, quiet motorcycle cabs that are regularly checked and maintained. The motorcycles are driven by a team of experienced and friendly drivers in order to ensure you a totally safe and friendly trip.
Availability: in order to serve you well, we propose a team available 24 hours a day and 7 days a week for the airports of Paris Orly or Roissy, just make the reservation of your motorcycle taxi by indicating the date of the flight and you will immediately receive a confirmation by email.
Punctuality: motorcycle taxi at CDG Terminal 3 is the ideal way to ensure your arrival on time despite traffic difficulties. Our team of qualified and experienced pilots will save you a considerable amount of time for your travels in the capital and its regions as well as to CDG airports. Beyond that, a delay billing will be applied according to the conditions in force.
The drivers: qualified and available, our team of drivers offers you a safe trip, because they know well the routes in Paris and the trips to or from the airports of Paris Orly or Roissy Charles de Gaulle. Moreover, they are always listening to your needs and they propose you in advance the fastest routes.
Motorcycle cabs at Charles de Gaulle Terminal 3 airport have many advantages. For the comfort of our customers, we offer a range of high quality vehicles, regularly subjected to rigorous controls and capable of ensuring smooth and fast travel. For example, it is important to know that the Orly-Roissy connection takes about 50 minutes in a standard trip.
Rates: to ensure a fast and safe trip, our motorcycle cab team is ready 24/7 to intervene at any time of the day or night and immediately after your reservation.
Why choose a motorcycle taxi ?
Having already the recognition of a mastery and a high level of service, our drivers guarantee you a comfortable trip in Paris Orly, Roissy, CDG and everywhere in Ile-de-France, without any worry of delay. In addition, these motorcycle cabs ensure that your trips are twice as fast, smooth and always at a lower price than other means of transportation in the region.
Don't worry if it's winter, because when you make a reservation request, your driver will provide you with a pair of gloves and overpants. Indeed, if punctuality is our goal, health is our priority!
Estimates for a motorcycle cab ride in Paris

- Orly-La Défense in 35 minutes.
- Paris-Roissy in 35 minutes.
- Paris-Orly in 25 minutes.
Moreover, the motorcycle taxi is a friend of the environment, it is a means of transport less polluting and ecological compared to the vehicles with 4 wheels, since it does not consume as much fuel. Therefore, opting for a motorcycle taxi for your travels is a gesture towards our dear planet!