motorcycle taxi CDG T2G, Roissy Airport Terminal 2G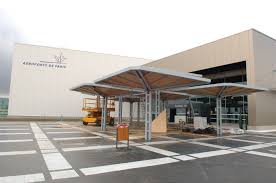 The motorcycle taxi is a real alternative to the traditional cab. Contrary to the classic four-wheeled cabs, the motorcycle taxi is THE mode of passenger transport to overcome the traffic jams of the big cities, especially during the rush hours.
Discover the many advantages of motorcycle taxiat CDG airport Terminal 2G.
>A motorcycle taxi at CDG with comfort facilities
Traffic jams are becoming more and more frequent, and are even becoming almost unavoidable in large urban areas. This is mainly due to the increasing share of the population that comes to work every day in the central districts of Paris. The motorcycle taxi is a shuttle service that is becoming almost necessary to relieve traffic congestion. Indeed, the motorcycle taxi is faster while offering the same advantages as traditional cab transfers at CDG Roissy Terminal 2G airport.
Motorcycle cabs are available to all customers who do not have bulky luggage of course. For a displacement with destination the airport Charles de Gaulle Terminal 2 E or for any other destination of the capital, even to carry out a shuttle between two airports. Motocab's motorcycles are top-of-the-line, with heated and comfortable seats, as well as a helmet with Bluetooth connectivity.
The helmet with microphone allows you to communicate with the driver during the ride. In addition, a waterproof jacket in case of rain is part of the motorcycle kit provided to the client at the time of onboarding. Motocab riders observe strict safety and speed limit rules. If you ever feel uncomfortable, do not hesitate to tell the driver of motorcycle taxi who is always ready to listen to you.
Although it is still a little known and not very widespread option in France, travelling by motorcycle taxi has been a reality in many countries for several years. The motorcycle taxi service in CDG by Motocab is the ideal complement to the traditional cab and above all the best way to avoid traffic jams. The motorcycle taxi is able to weave its way through those endless lines of blocked cars.
motorcycle taxi a fashionable means of transportation
More and more businessmen and women are turning to this alternative, especially when they need to travel, either from the center of Paris to Roissy Charles de Gaulle Airport Terminal 2 E, or from one airport to another, etc. The traditional cab ride can last 40 minutes on average, or even much longer depending on the distance and traffic jams. Therefore, the motorcycle taxi represents an agile, innovative, fast and safe alternative, if you wish to arrive on time for an appointment or to take your plane at the Terminal 2G of Paris-Roissy Charles de Gaulle airport.

- It is a means of transportation that is starting to be used in France.
- The motorcycle cab is faster, cheaper and more durable.
- It has an insurance and offers equipment to the passenger.
- They pick up the customer only after booking.

The team of motorcycle taxi Motocab is proud to provide you with robust and comfortable motorcycles, entrusted to professional drivers to ensure that you arrive at your destination without any delay. Choosing motorcycle taxi as your means of transportation to and from Paris-Roissy Charles de Gaulle Terminal 2G airport will allow you to make significant savings in your transportation budget. And if you have a tight schedule, this fast and punctual way will avoid you to be penalized because of possible delays.
Terminal 2G is off-center
Pay attention to your travel time, terminal 2G is particularly isolated in the CDG area. It takes a good 5 minutes by motorcycle taxi to go from terminal 2G to CDG 2A for example.