4 reasons to choose our service motorcycle taxi at CDG T2F airport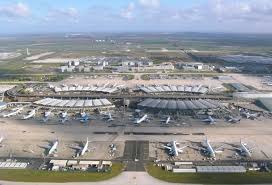 Have you heard of motorcycle taxi as a means of travel? Are you thinking of using it for your future trips to CDG Roissy Terminal 2F airport? From now on, with our service of motorcycle taxi, your displacements are faster, more comfortable and also safer. It is a very useful means of transport, put at your service for all the destinations of the Paris area, and from or to theCDG Roissy airport Terminal 2F, a wide choice that allows you to make significant savings not only on your schedule, but also on your expenses.
motorcycle taxi considerable benefits
The advantages of the motorcycle taxi Motocab service are priceless, and some of them can convince the most pacifist:
1. considerable time saving
Every morning, you are forced to deal with traffic jams that cost you time and money. This can be particularly inconvenient if you have a flight to catch at CDG Roissy T2F airport. While the motorcycle taxi can do the same route in half the time compared to a car or a cab. It should be noted that during rush hours, a car runs at an average of 15km/h while a motorcycle taxi does 35km/h, the calculation is quickly done!
2. no problems with the weather
You know how difficult traffic jams can be when it rains, how difficult driving can be when the streets are filled with an endless stream of cars. Under these conditions, it is always likely that you will arrive late for your appointments, not to mention the delays that can accumulate in your work.
As a means of transportation, the motorcycle taxi for Paris-Roissy Charles de Gaulle Terminal 2F airport offers the same advantages as a four-wheeled cab. Basically, you get from one place to another, but with the advantage of always arriving on time and not paying as much. Plus, you don't have to deal with the hassle of frequent traffic jams, road work and other unforeseen events.
3. streamline your budget!
Travel to and from CDG Roissy Terminal 2F airport, in motorcycle taxi, is available at a competitive price at Motocab. This is a good reason to turn to motorcycle taxi for your inter-airport trips but not only. Indeed, it is a good way to reduce delays at your professional appointments and the lack of productivity on days when you are on the move.
By trusting the service of motorcycle taxi Motocab, you will no longer be forced to sacrifice one or two hours of your day to travel. Indeed, a motorcycle taxi from or to the airport CDG Roissy Terminal 2F can considerably reduce your travel time.
4. close service and convenience
The motorcycle taxi is a means of transportation that can help improve your business trips. We have a whole team of confirmed drivers who are committed to offer you a comfortable transfer to or from the airport CDG Roissy T2F. A necessary equipment to move in the respect of the best safety standards, ensuring you adapted protections.
And because safety is essential for us, we provide you with equipment (high quality helmet and its cap, a rain coat, a pair of gloves and other useful accessories). What is your goal? You can arrive at your professional appointment or at the airport without having suffered from the bad weather. Please note: we also offer you wipes with antibacterial gel to clean your hands before and after wearing the gloves.
Flight tracking
Terminal 2F and CDG 2E are long-haul terminals and flight delays are frequent. Our flight tracking system allows you not to be charged in case of delay of your plane, the dynamic management of our pilots' schedules allows us to take into account the ADP information in our schedule optimization.