The largest fleet of motorcycle cabs in Paris and its airports:
With more than 90 professional drivers, Motocab is the company with the most reactive fleet on the market motorcycle taxi . Every day, we answer your requests concerning the availability of our motorcycle taxi on a simple call to our switchboard. Whether it is from the big cities ofIle-de-France or for a displacement in motorcycle taxi in Paris, our Honda Goldwing motorcycles are at your disposal.
Make the choice of confidence and security with our pilots of motorcycle taxi !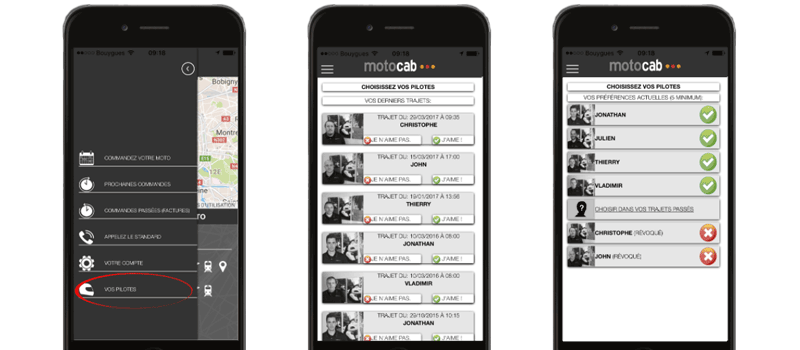 Thanks to The reservation application Motocab(download), you can directly choose the driver who will transport you. As a regular user of our company, you will be sure to be transported by the drivers with whom you have the most affinity. And since motorcycle taxi is first and foremost a matter of trust, you should know that our motorcycles are regularly inspected to ensure your safety is impeccable. For this purpose, we systematically provide you with an Airbag vest.
State-of-the-art logistics at the service of motorcycle taxi since 2001
Motocab is the pioneer of motorcycle taxi in France. The company has evolved over the years, developing a computer tool dedicated to the reservation and management of motorcycle taxi in Paris. Over time, our expertise has shifted to certain types of trips and we are now experts in transportation to airports: motorcycle taxi to Roissy CDG and motorcycle taxi to Orly. We control the movements of our fleet in real time and the human element remains at the heart of motorcycle taxi by Motocab with 5 dispatchers who permanently control the smooth running of transfers.
Airbag vest, insurance and safety!
For even more safety, our fleet drivers offer you Airbags made in France for a more reassuring experience at motorcycle taxi. The insurance is subscribed with AXA which was one of the first insurance companies to work with Motocab since 2001.
Motocab Event, make your events move with our fleet of motorcycle taxi :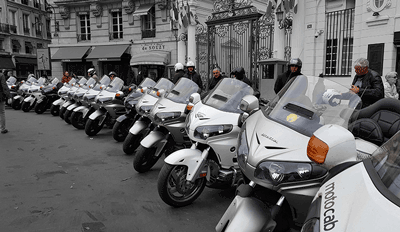 From 5 to 80 motorcycles with professional drivers, we come with you to coordinate the operation. Download our brochure and offer a unique experience to your guests with motorcycle taxi .
Link the airports of Paris in motorcycle taxi !
You want to go to one of the Paris airports in motorcycle taxi ? You've come to the right place! Whether you are looking for a motorcycle taxi in Roissy CDG or an motorcycle taxi at Orlyyou can call on Motocab's drivers. The motorcycle taxi, it is the insurance to reach the capital quickly or, in the opposite direction, not to miss your boarding! Concerning your luggage, don't panic: your carry-on suitcase will fit perfectly on our Honda Goldwing motorcycle.
In terms of time, it takes about 40 minutes from Paris to Roissy CDG and 25 minutes from Paris to Orly. For connecting flights, count about 50 minutes to connect Orly-Roissy by motorcycle taxi.

As far as fares are concerned, ours are fixed and it will cost you 93 € from Paris to Roissy CDG, 72 € for Orly airport and 131 € for the Orly-Roissy connection.